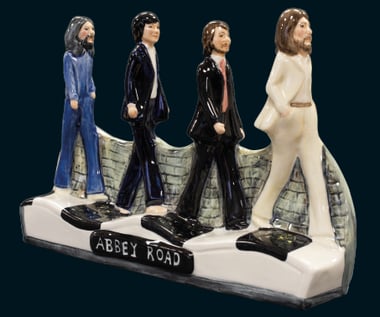 20.

Cliff Richard and The Shadows
This chapter is different to the others. The other chapters in this book all focus on groups who came along at about the same time as The Beatles, or after them. These groups were all looking enviously at the incredible success of The Beatles and wanting to taste that success for themselves. Cliff Richard and The Shadows were different. They were there first. The Beatles wanted to emulate them.
Looking back nearly sixty years later, it is quite difficult to remember and fully appreciate what a massive force Cliff Richard and The Shadows were in the UK in 1962. This happened to be the year when The Beatles secured their recording contract with Parlophone Records, and made their first faltering steps towards the top of the charts. Parlophone was a minor record label owned by EMI. This subsidiary outfit was not a big deal as far as EMI was concerned; it didn't earn much money and so they paid it little attention. Admittedly, Parlophone had Adam Faith on their books who was providing a modestly steady source of British hit singles for them, but the label was otherwise mainly confined to comedy and novelty discs.
EMI's principal record labels at the time were Columbia and HMV. Columbia was their premier label and their flagship company. Columbia made more money for EMI than their other labels combined. Naturally, Cliff Richard and the Shadows, by a long way EMI's biggest stars, were on Columbia. Brian Epstein had tried to get The Beatles accepted by Columbia. The label had turned him down. So had HMV when he approached them. Epstein had had to fight hard even to get Parlophone interested in taking his group on. George Martin, head of Parlophone, hadn't seen much of note in the recordings Epstein played him. These had been from the group's audition at the start of the year for EMI's chief competitor, Decca. The Beatles had failed the Decca audition. They had failed everywhere. Parlophone was Epstein's final, desperate throw of the dice.
So what was so special about Cliff Richard and The Shadows at the time that The Beatles were struggling to get any attention at all from the record industry? From 1960 to 1962, Cliff had been by far the most popular and, indeed, most handsome British singer on the UK pop scene. He was an extremely good vocalist as well, equally adept at both ballads and rockier material. There were other successful British singers around: Marty Wilde, Billy Fury, the aforementioned Adam Faith, Joe Brown. But none of them compared in stature or popularity to Cliff.
All of Cliff's records, singles, EPs and LPs, were big hits. He was the impossibly attractive boy that most teenage girls in Britain had photos of pinned on their bedroom wall. He was the dreamboat they all fantasised about marrying and settling down with. The Shadows were Cliff Richard's backing group. Unlike every other singer's backing group of the era, they had managed to transform themselves from being mere faceless appendages, only there to provide a reliable musical accompaniment to the glamorous singer out front, whilst staying obediently and anonymously out of the limelight. Through a cleverly created series of catchy guitar-based instrumental hit singles, The Shadows had become famous in their own right.
The biggest star in The Shadows was the most unlikely looking pop star one could imagine; unless one remembered the bookish, bespectacled Buddy Holly. With his band The Crickets, Holly had written and sung like an angel until his tragic and untimely death aged just 21 in a plane crash in 1959. The Shadows' equivalent of Buddy Holly, at least in the awkward looks department right down to the large Holly-like spectacles, which he had copied from Buddy Holly, was a gangly young man with a goofy grin.
His name was Brian Rankin, but he soon exchanged it for the more exotic, rock 'n' roll sounding, moniker of Hank Marvin. Hank Marvin had two things going for him. The first was that in 1959 he managed to acquire the first Fender Stratocaster ever imported into the UK and used by a British musician. Incidentally, Cliff Richard generously bought it for him – which turned out to be a very good investment in the future. The Fender Strat looked amazing. It had a space age appearance, immediately transporting its wearer from the staid old imagery of typical guitar players in big bands of the 1950s.
Copyright © 2020 Martin Orkin. All rights reserved.